Packing for a Kilimanjaro climb is one of the most important steps for a successful climb, and that is why we came up with a list of items that we believe should be included on your packing list for a Kilimanjaro climb. The packing list for climbing Mount Kilimanjaro varies from climbing equipment to personal effects and other accessories that you might need while on the mountain. The porters will carry your duffel bag, which will contain your gear and other things weighing no more than 15 kg, whereas your backpack will contain some personal items to be used during the hike.
Mount Kilimanjaro has different climatic zones such as rainforests, moorlands, alpine deserts, and an arctic zone, which means that you need to pack for the climatic zones. Below is a list of things that you should pack for the Kilimanjaro climb.
Tips on what to pack for a Kilimanjaro hike
Avoid getting the cheapest gear: Mount Kilimanjaro Climbing is not an easy fit, and you will need to get good quality gear and clothes if you want to have a good hike. You do not necessarily need to buy expensive clothes, footwear, and hiking gear, and besides, your comfort and safety are of more importance. There are lots of high-quality hiking gear and clothes on the market that can be gotten at affordable prices.
If you do not want to carry a bulk of equipment into Tanzania, you can still hire equipment when you arrive in the country. Several shops have hiking equipment for hire at affordable prices, but we kindly suggest that you let the tour operator hire it on your behalf since they know what exactly is needed.
Keep all your gear with you, especially if you are flying to Tanzania, and do not forget to have a pen and some hard cash on you.
Before traveling, make sure that you find out all the things that you might need from the packing list so that you know what to bring exactly.
Equipment: The equipment needed includes the following: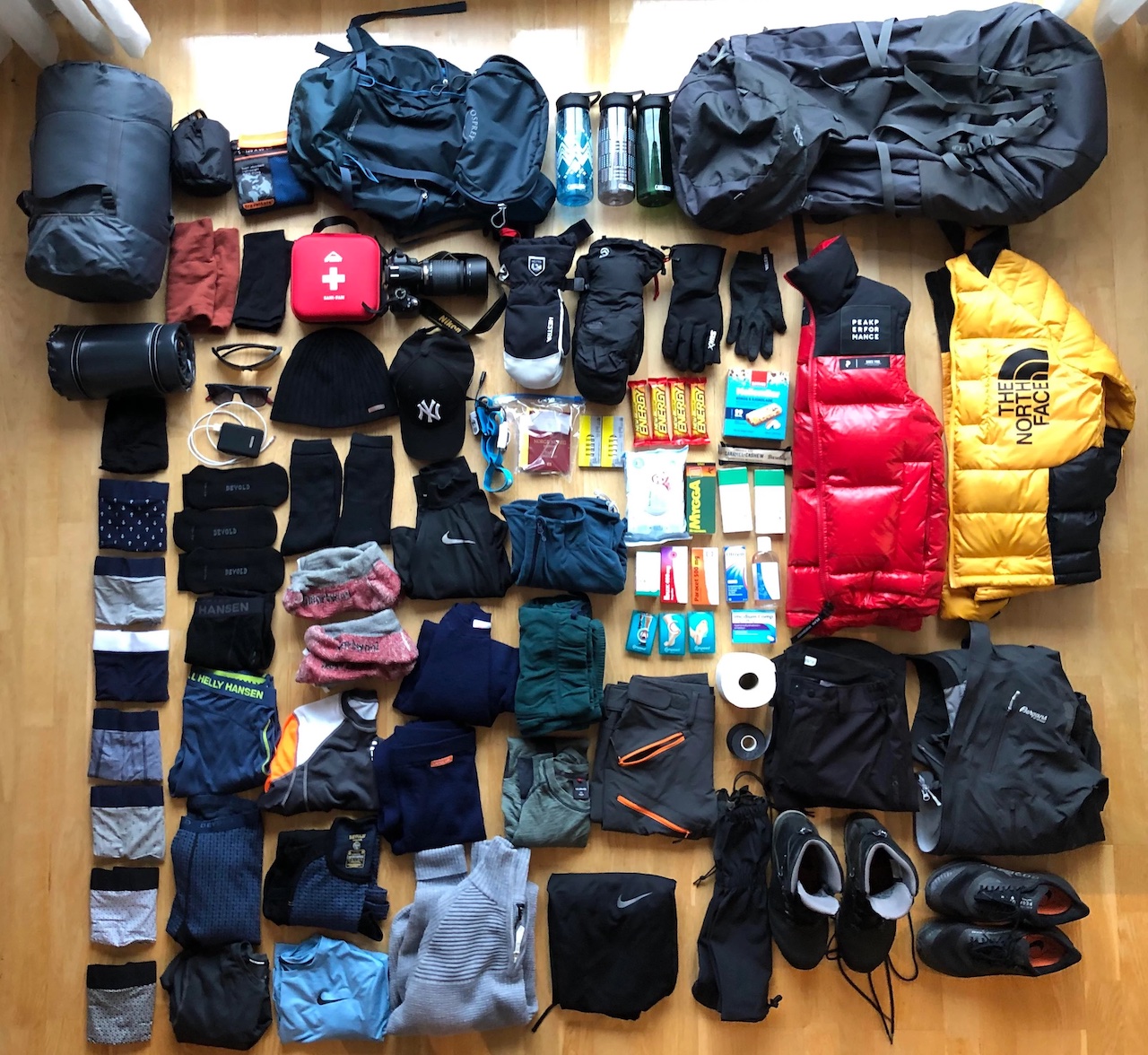 Trekking poles: these are highly recommended not only because they help you get to the summit and down safely but also for health reasons. Good hiking poles help relieve body joints, especially the knees, from the stress that comes with hiking, and they should match your height (do not get poles that are either shorter or taller than you), they should not be too light or too heavy (about 400g), they should have good grips, and we advise you to get aluminum trekking poles.
Gaiters: We usually rent out the poles that are used, especially during descent. We advise that you use trekking poles with the suspension to avoid slipping and falling. These are not mandatory, but they are good for preventing pebbles, snow, and mud from getting inside your boots.
Sleeping bags: It does not matter when you climb Mount Kilimanjaro; you will need a sleeping bag even when using the Marangu huts since they are not heated. A sleeping bag has three levels: the comfort level, meaning that you can easily sleep in your sleeping bag with only your thermos underwear on; the limit level, usually used when you are putting on some extra layers of clothes; and the extreme level, used in extremely cold conditions, usually when a hiker is facing hyperthermia and needs to be evacuated.
There is a temperature limit, and sleeping bags shouldn't be used in such conditions; they should have hoods to better cover the head and be at least -10 degrees Celsius.
Pillow: an inflatable pillow comes in handy at night, or if you can't get one, you can use a pile of clothes or your backpack to support your head.
Headlamps and extra batteries: headlamps are extremely essential and are mainly used during the hike to the summit since it is usually done at night. There are different types of headlamps that you can use; just make sure that you get extra batteries with them.
The headlamp is also used around the camps in the evening hours, and when you get a headlamp, ensure that the batteries, including the extras, are of good quality, that it is not heavy, and that you check the light of the headlamp before getting one.
Backpack: high-quality backpacks of different types are recommended for the Kilimanjaro hike. The different bags that are needed for this hike include a duffel bag where most of the hiking gear will be kept and thus carried by the porters at all times, a backpack that is to be carried by you and this should have side pockets (for the trekking poles), a rain cover, the backpack should have a hip belt, and make sure that it is as light as possible.
Other bags that are recommended include the travel organizer bags placed in the duffel bag, although these can be optional; a dry bag to fit in your sleeping and other gear to keep them dry; and a camel bag, also known as a hydration bladder.
Clothing: The different types of clothing needed for the climb include
Ensure that your base-layer clothes keep the sweat off your body to keep you from getting chilled; ensure that you take off the wet clothes immediately after you get to the camp; the middle layers are to help with body heat; and the outer clothes keep you from rain and strong winds.
The inner layer of clothing should first include at least one summit base layer, two base layers, socks, three or more sports underwear, one middle layer, and at least two thermal underwear.
Hiking pants (should be water-proof and avoid jeans): the types of pants that are recommended for the Kilimanjaro hike are the trekking pants that should be of good quality, warm/ski pants (these are best used during the summit hike due to the extreme cold), and membrane pants, usually used during the rainy season or when it rains during the hike.
Long-sleeved shirts and Short-sleeve shirts
Waterproof jackets: we recommend three types of jackets to carry for this hike, and these are the hard shell rain jacket that is meant to protect you from the hard, strong winds and rains (note that this will be needed from day one), fleece jackets, especially the ones that come in Polartec-200 fabric, and a hooded one will be much better, and the last one is the warm/down jacket that is hooded.
Headgear: Just like all the other trekking equipment, headgear is mandatory, and the headgear that you can use includes a sun hat, and we recommend that you either a wide-brimmed hat or one that has a neck covering, a balaclava that is used to protect the face from the cold, a beanie during the cold weather, and a neck warmer.
Hand gloves (waterproof): two types of gloves are needed for the hike, and these are the inner gloves and the outer heavy, warm gloves because they are both essential for the hike. Inner gloves should always be made of good quality and be warm (polyester or wool), and the warm outer gloves should be waterproof, warm, and able to hold onto the trekking poles. If possible, mittens are better for this occasion, and please avoid getting cotton gloves.
Warm, heavy socks (wool): although thermal socks are optional, they should at least be packed due to the abrupt weather changes on the mountain and the different climatic zones. Flat-seam socks or wool are a good deal.
Hiking waterproof boots: choosing appropriate and good hiking boots is extremely important, and we recommend that our hikers have at least two pairs of strong hiking boots and sneakers. There are several hiking boot brands that you can check out, including Salomon, Scarpa, Zamberlan, and Aloso, among others.
During the first days of your hike, you will need to rest your feet a bit from the hiking boots, and this is where the sneakers come in. They are the best option for exploring the camps and the surrounding areas.
When choosing hiking boots, make sure that they are of medium weight because they should not be heavy, they also don't need to be new (shoes that you've worn before are easier to navigate), and the hiking boots should also have good ankle support.
Personal items
Extra money for personal purchases
Personal items like snacks, toothbrushes, thermal underwear, and earplugs
Insect repellent
First Aid: The company guides usually carry a first aid kit to help in case of emergencies, and it usually consists of masks, a mountain shelter, medicine for altitude sickness, and a stretcher in case of emergency evacuations. You should also carry a personal aid kit for minor emergencies and personal medication. Some of the things that shouldn't miss a spot in your first aid kit include the following:
Sunscreen: You need a strong sunblock screen, and it is best if you hike with it in the daypack since the sunburn risk is extremely high. Choose a sunscreen brand that lasts long, or make sure that it is ready to use.
Altitude drugs: There are usually three drugs that are used for altitude sickness, and just like any other prescription drugs, they have side effects. We usually have these in our first aid kit, but you can still carry some. The ones that we use include Dexamethasone (which helps in preventing AMS and treating pulmonary edema) and Diamox, which is the most commonly used for AMS.
Bandages and antiseptic cream: this help keeps fresh and small cuts clean and safe. You will also need some wipes and plasters, and you should make sure that the wounds are clean and let them air out if possible.
Prescribed medication: Kilimanjaro is a malaria zone, although you will not need the anti-malarial drugs high up the mountain since there are no mosquitoes. You will however need some painkillers and other tablets, including Ibuprofen, inhalers, tablets for diarrhea, Tylenol, paracetamol, and many more that are prescribed by a physician.
Eye drops and oral rehydration sachets: having tired, dry eyes is common among hikers, and the eye drops are to help with the dust and irritation. Oral rehydration sachets help, especially with the ever-increasing altitudes.
Tech items: Mount Kilimanjaro does not have charging facilities, and hikers need to come when they are well-prepared with sufficient power. Tech items you can use while hiking include:
A smartphone although there is limited or no network on the mountain, smartphones help with taking photos, and just in case you want to call, we recommend you get a local Tanzanian sim card since it will be cheaper to use.
GPS: This is optional but helps the hiker track their hike (to keep track of the progress so far made).
Power banks: there is no power on Mount Kilimanjaro, which is why power banks are needed. This is the only way to keep most of your gadgets fully charged.
Camera: Cameras are essential when it comes to hiking because they are used to take pictures throughout the hike. Some hikers use their smartphones, but it can be difficult sometimes to hold phones with gloves on. A digital camera is the best solution to this; make sure you carry extra batteries and SD cards, and note that a camera has better lighting and takes better pictures.
The Paper Work
Insurance
Receipt for the trip
Visa (This can either be obtained before or after arrival in the country.)
Valid passport
Immunization cards
Other accessories
A pee bottle (optional but essential to avoid moving out of your tent at night)
Backpack waterproof cover: Some backpacks come with an inbuilt rain cover, and although your backpack is waterproof, we advise that you get a rain cover that is fitted to your backpack so that you do not forget it in one of the many camps along the mountain.
light-weight face towel
Wipes: wet wipes help keep you hygienic throughout your hike on Mount Kilimanjaro, especially if you can't hire a personal shower. Two packets are usually enough, and you can carry one in your daypack.
Sunglasses: When choosing sunglasses, some key points should be put into consideration, namely that they should be able to provide good UV protection since the radiation is higher up the mountain (4-level UV), and they should be able to take you through the heavy snow while hiking to the summit.
Water bottle: You need to have at least four refillable water bottles of either one or two liters. Do not forget to also carry a hydration reservoir and a coffee or tea bottle or flask. We advise that you keep the water bottles as close to you as possible and put them in a thermal sock to keep the water from freezing.
Ziploc bags because of the plastic bag ban in Tanzania
Do not be too shy to ask questions about the packing list and how to use the different hiking gear provided. We have an experienced team ready to answer all your questions and make sure that you are comfortable during your hike.
What do I need to bring during the climb along Mountain Kilimanjaro?
The different equipment that is needed as you prepare for the Kilimanjaro climb include the following:
An insulated water bottle
large backpack or duffel that can be carried by the potters
A sleeping bag most preferably four seasons with conditions from 10 to 15 degrees Celsius, a small pillow and a travel mattress
Headlamp and do not forget to bring extra batteries
Ear plugs
A camera with extra memory cards and batteries since the life battery is shorter under extremely cold conditions
A day backpack with a waterproof cover carrying a maximum of 30 litres
Sunglasses
Trekking poles (we highly recommend the telescopic type)
A pocket knife
a few board games or novels for entertainment
The toiletries we recommend that you travel with include the following:
A light travel towel
Toilet paper
Insect repellent
All types of feminine hygiene products
Toothbrushes, floss and toothpaste
shaving cream, shavers and gel
Kleenex and facial tissue
lotion
Wet wipes
soap
sunblock
Deodorant
Below is a list of clothes that you can carry for your Kilimanjaro climb safari
waterproof and insulated jacket
Thermal socks (they need to be thick)
Underwear
Trekking boots (waterproof) and gators
extra shoes for when you are in camp and these include flip-flops and gym shoes
Trousers and try as much as possible to avoid jeans since they soak up making it hard to trek
Thermal underwear
Both waterproof inner liner and outer gloves
Long-sleeved shirt
Ponchos
A scarf
Documents are also necessary and the most important ones you should have include the following:
Travel and medical insurance
passport
Yellow fever Vaccination card
Plane tickets
Medical history
A list of emergency contacts in case of any issue arising
Credit cards and ATMs
Money for personal transactions and if you are carrying dollars, the bills should be issued at least after 2003
A personal First Aid kit is necessary and it should have the following items.
Indigestion medicine
Painkillers
Anti-malarial tabs
Anti-diarrhea medicine
High altitude medicine
Bandages
Band-Aids
Rehydration salts
prescribed medicines
syringes and needles
Rehydration salts
Eye drops
Antiseptic creams.