The Rongai Route is one of the less frequented routes in Mount Kilimanjaro starting from the Rongai gate through the different climatic zones experienced on the mountain and one that is surrounded by wilderness because of its irregular use.
Located on the rain shadow side of Kilimanjaro, this is the best route to use during the rainy season since it receives little or no rainfall. The Rongai route is the only route that approaches Mount Kilimanjaro from the north side of the mountain that borders Kenya and can be accessed from the Kenyan side.
The hike starts at Rongai Gate to the Kikelewa caves where wilderness views of the Amboseli plains are visible, it continues to the Mawenzi summit, crossing the barren saddle that connects both the Kibo and Mawenzi peaks. After getting to the summit, the descent is done along the Marangu route which offers trekkers views of the other side of Mount Kilimanjaro.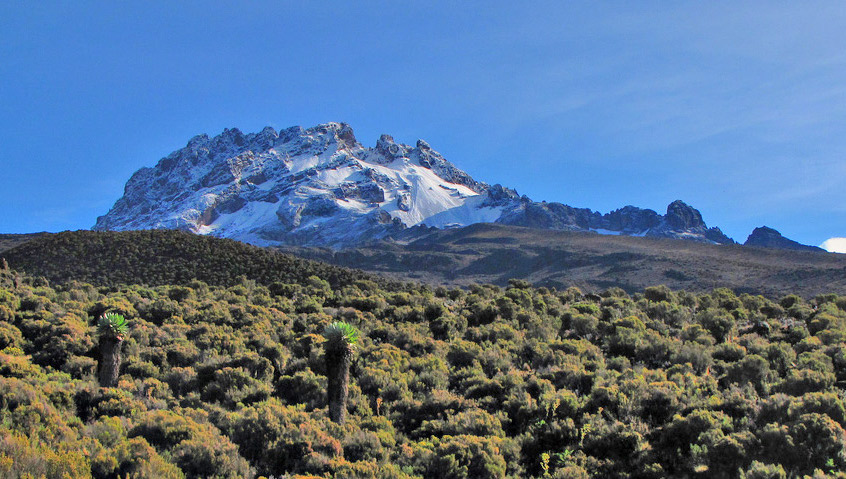 The Rongai Route is considered to be one of the easiest routes along Mount Kilimanjaro because the climb is both steady and gradual. It however is not the best route for acclimatization because it does not offer the climb high and sleep low profile which in the end makes it a bit more difficult than both The Marangu Route and Machame Route. The route does not require too much technical climbing but you might as well get ready because Kilimanjaro is not an easy climb.
Because of the remoteness of the route, it is less frequented by tourists equaling less traffic and offers wildlife encounters to hikers where you can see animals like African buffaloes, elephants, monkeys, and antelopes among others. Rongai descends through the Marangu route, has a good summit rate, and has panoramic views of the surrounding areas and the peaks.
At a distance of 73 kilometers, the Rongai Route can be hiked in either 6 or 7 days and the 7-day itinerary is recommended since it has an extra day for acclimatization. The acclimatization point is at Mawenzi Tarn although this option can only be done on a 7-day itinerary.
The success rate for the Rongai Route: The summit success rate for Rongai is between 65% for the 6-day itinerary and 80% for the 7-day itinerary. The reason for this percentage is that the route only offers a one-time climb high and sleep low profile which does not favor good acclimatization.
Is the Rongai Route busy? No, the Rongai Route is one of the least busy routes on Mount Kilimanjaro and is more remote as compared to others. It is however less scenic and you will only start seeing other hikers from Kibo till you get to the summit.
Accommodation: Rongai only offers camping services to all hikers and this is done at the different camping sites found along the route and equipment like tents, pillows, sleeping mats, and bags are provided.
Although Rongai is not as scenic as the rest of the western routes, it makes up for it with the wilderness and wildlife you get to see throughout your hike and we only offer a 6-day or 7-day climb for the Rongai Route