The Mount Kilimanjaro Climb should never be underestimated because it is not an easy climb, but this is not the case with most climbers who think it is just a walkover. Preparation is key if you plan on climbing Mount Kilimanjaro. Carry out enough research, ask all the necessary questions, and make sure that you choose the best tour operator. Almost 50% of the climbers make it to the summit, whereas thousands are evacuated for various reasons. To answer the question, yes, it is safe to climb Mount Kilimanjaro, but only if you are educated on the risks and how to avoid them.
Kilimanjaro Climbing is not without risks and considered dangerous. Approximately 10 people pass away while climbing Mount Kilimanjaro, while more than a thousand others are evacuated by the authorities for various reasons. Land evacuation is the responsibility by Kilimanjaro National Park personnel while air evacuation is available from a private helicopter evacuation services.
Safety overview on Mount Kilimanjaro
When climbing Mount Kilimanjaro, safety always comes first, because if it is not the top priority, hikers might stop attempting the Kilimanjaro summit. Safety in this instance means a lot of things, including the type of clothes, equipment, good meals, proper accommodation, choosing the best route, and hiking with experienced guides.
Food on Mount Kilimanjaro
Kilimanjaro is not an easy climb, which means that you need to eat properly and get enough food into your system to be able to effectively continue with the climb. Breakfast, lunch, and dinner are prepared by the cooks and served hot, and you can carry your favorite snacks as well.
Choosing the best route
Mount Kilimanjaro has seven routes that are all used to get to the summit, but only a few of these offer proper and better acclimatization. The Shira route has a high starting point altitude, offering poor acclimatization; the Umbwe and Lemosho routes also have a low summit success rate, and climbers don't have better acclimatization, whereas the Northern Circuit, Lemosho, and Machame routes offer better acclimatization.
Another better way of quickly adjusting to the high altitude is by climbing high and sleeping low, although not all routes offer this. The Marangu, Rongai, and Umbwe routes don't have this offer, but Lemosho, Machame, and the Northern Circuit do. Climbing high and sleeping low simply means you climb to a higher altitude and hike down to a lower altitude for the night to let the body adjust accordingly to the ever-changing altitude and reduced levels of oxygen.
Acute Mountain Sickness
Hikers who take on places with high altitudes are always prone to getting acute mountain sickness, which can also be referred to as altitude sickness. It is mainly caused by the body failing to get used to the low levels of oxygen found at high altitudes, and most hikers will experience it at some point while hiking up Mount Kilimanjaro. The symptoms of altitude sickness include fatigue, nausea, abnormal sleeping patterns, headaches, shortness of breath, and loss of appetite. If your symptoms are mild, then you are good to go, but if they become more serious, the only solution is to descend the mountain.
One of the most commonly prescribed drugs used to prevent altitude sickness is Diamox, also known as Acetazolamide. Diamox helps in increasing the breathing rate, thereby preventing altitude sickness for whoever has taken it.
Travel Insurance for Kilimanjaro
Mount Kilimanjaro is over 5895 meters high, and if you plan on climbing the mountain, make sure that you have travel insurance because no reputable company will work with you if you do not have it. Discuss the risks you will be taking by hiking, the existing medical conditions if you have any, and any potential threats that might arise. Make sure that the travel insurance you get covers medical, lost luggage, evacuation, and cancellations.
Malaria on Mount Kilimanjaro
Tanzania is located in a malaria zone, which means that Kilimanjaro hikers will need to take all the necessary precautions to avoid malaria. We advise that you visit your local doctor to get antimalarial drugs and follow their advice on what to do. Other ways of preventing malaria, especially in the rainforest zone, are by wearing long-sleeved shirts and trousers, using insect repellent, and sleeping in a treated mosquito net.
Safe drinking water
Safe drinking water is provided by the crew throughout your journey. The water is carried by the crew from the lower parts of the mountain to the different camps. The water is used both as drinking water and for cleaning. Purifying tablets are used to make drinking water safe, and in case you don't like the taste of the tablets, there are different flavors of water that you can use. You should also note that no one will carry your drinking water in the hydration pack or water bottle, which you must fill before leaving the camp.
When it comes to hiking on Mount Kilimanjaro, hydration is key because if you are dehydrated, you will not make it to the summit. We always tell our clients to carry at least 3-liter water bottles for the hike, take two to three cups of water before leaving the camp, and not stop taking water even after the hike. The higher you go, the more water you should take since it helps in alleviating altitude sickness, and do not mind about the constant urination (this can be done in the nearby bushes).
Climbing equipment
The climbing equipment used on Mount Kilimanjaro is provided by the tour operator, who does an inspection a day before the climb. Equipment provided includes sleeping tents (if you are not using the Marangu route), chairs, tables, cooking equipment, trekking poles, and sleeping mats, among others.
Trekking poles:
The trekking poles are a necessity when it comes to climbing Mount Kilimanjaro because of the valleys, the steep slopes, and the rocks, which are sometimes slippery, especially in the rainforest zone and when descending the mountain. The poles also help by keeping the pressure off your legs and knees during the descending period.
An oximeter: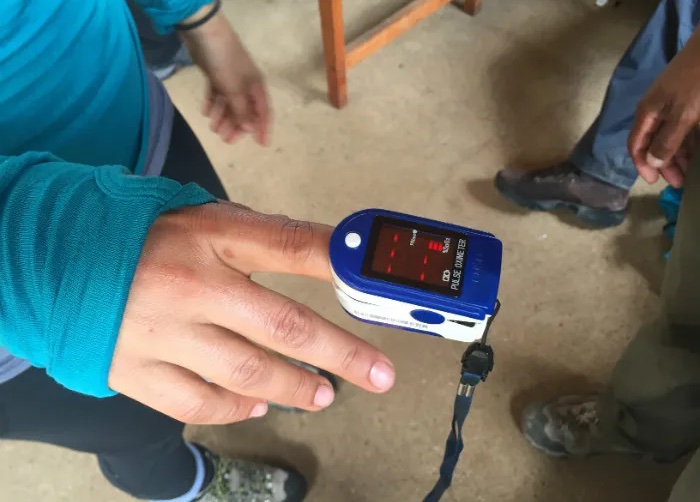 A pulse oximeter is used to test the levels of oxygen in one's blood during the climb, and it is placed on the climber's fingertip.
First-aid kit:
The kit is used to treat minor injuries and must have all the necessary medicines and items to clean blisters, cuts, and other illnesses that are not serious.
Bottled oxygen
Bottled oxygen is rarely used and is only carried as a precaution. The main treatment and solution for severe altitude sickness are descending, and this works for all the different routes used to climb Mount Kilimanjaro.
Clothing
The weather keeps changing the higher you go, and the types of clothes that you should carry should include both light-layered and warm clothes. The light-layered clothes are for when the weather is warm; the warm clothes help with the ever-fluctuating cold weather, and you will also need some waterproof clothing as well. (Note that the clothes should be long-sleeved shirts and trousers.) Footwear is also important, and it should be waterproof, worn in, have good traction to prevent slipping, and fit well. Do not bring new hiking boots because they will not be suitable and you do not want to put on ill-fitting shoes, causing blisters on your feet.
Sun protection
There are lots of sunscreen types on the market to help with the sun, and our advice is that you get sweat-resistant sunscreen and do not forget a sunhat as well.
Climbing with experienced guides
Trained and experienced guides are part and parcel when climbing Mount Kilimanjaro, and we always make sure that all our staff is experienced to safely take you to the summit and back. They are trained to deal with altitude sickness, offer first aid, and also have the necessary skills to make an emergency evacuation when necessary. Guides and the mountain crew are your support system throughout your hike, and you must use someone you are comfortable with so as not to put your life at risk.
Vaccinations
There are no specific vaccination requirements needed to enter Tanzania, but a yellow fever vaccination book will be required. And just to be on the safe side, talk to your doctor about the different vaccinations, especially hepatitis A and B, tetanus, polio, meningitis, typhoid, measles, mumps, and rubella, among others.
Choosing a registered and qualified tour operator
Finally, the most important thing you need to do to keep safe while climbing Mount Kilimanjaro is to get a trusted and local tour operator who follows all the above-mentioned aspects. We value your safety and promise that you will get value for your money. Avoid getting companies that are too good to be true because you might be scammed, and by choosing a good tour operator, you will have a safe climb with an operator who has extensive knowledge about Mount Kilimanjaro and a head guide who is well-trained in all aspects.