There is more to visiting Tanzania than climbing Kilimanjaro. A Mount Kilimanjaro hike is always planned for but why not enjoy other safari destinations within the country that offer unique sights after the hike? A safari to some of the top tourist destinations in Tanzania is a must-do on every tourist's bucket list and all you need to do is get in touch with our staff to plan your safari after the Kilimanjaro climb. There are so many outdoor activities carried out in Tanzania some of which include cultural visits, exploration of the National Parks, enjoying the beaches, and, hikes to other mountains.
Explore Zanzibar
Zanzibar is one of the best destinations to visit and unwind after the Kilimanjaro Climb. You can spend days exploring the island, relaxing along the beaches, and deciding whether you will just take a dip in the Ocean or sunbathe and enjoy the authentic cuisines prepared by the locals.
Stone Town: known as the oldest town along the coast, Stone Town is a must-see for tourists who would wish to see the town that was constructed by the Oman Arabs after the expulsion of the Portuguese in 1699. Exploring the narrow streets of Stone Town will take you back in time because most of the buildings are still in the same format that they were constructed in.
The beaches in Zanzibar: Zanzibar has several white sand beaches and some of the activities you can carry out while here includes swimming, snorkeling, tasting the spicy coastal dishes, enjoy yachting, getting that tan, enjoying the sunset and any other water activity you can think about.
Spice farm: Zanzibar is a spice town with most of the food prepared using the different spices grown on the farm. If you are not a fan of spiced food, you will need to learn because it is always tasty and good food. Zanzibar is also known as the spice Island and some of the spices grown here include cloves, turmeric, cinnamon, cardamom, and nutmeg among others.
Climb Mount Meru: Mount Meru is the second-highest mountain in Tanzania with a height of 4566m above sea level. It is a good hike that will maximally take you 4 to five days to complete the hike with stopovers along the way. It is an adventurous hike that is almost similar to the Kilimanjaro climb but at a cheaper cost.
Climbing Mount Meru is however recommended to be done before climbing Kilimanjaro, to serve as a rehearsal and offer acclimatization to to climbers.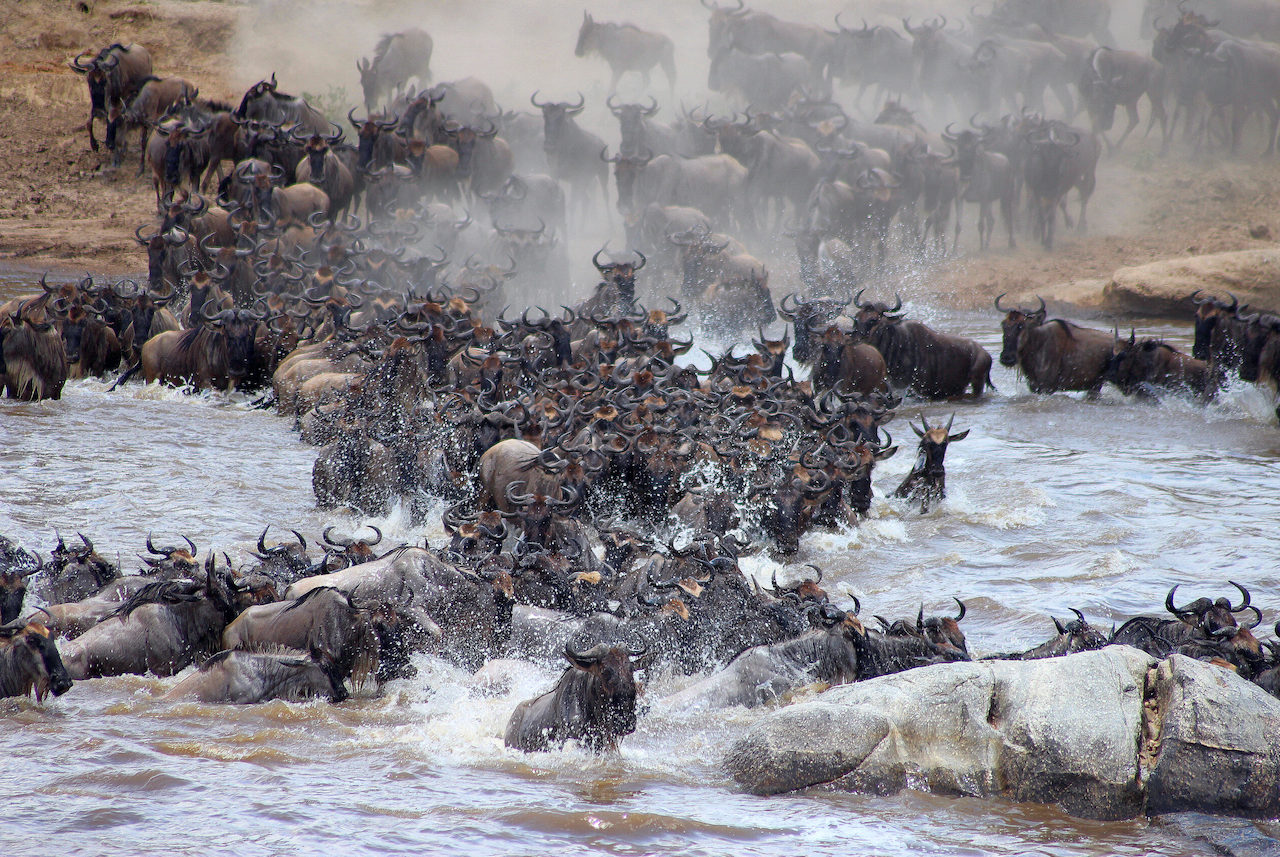 Safari to Serengeti: Serengeti National Park is a top safari destination in Tanzania where the wildebeest migration starts before the wildebeests cross into Masai Mara and then back to Serengeti. This heritage Site is home to predators like lions, leopards, spotted hyenas, and other species like buffalos, dik-dik, elephants, impalas, zebras, wildebeests, and elephants among others. Best visited during the dry season, your safari to Tanzania will not be complete if you do not visit and explore Serengeti National Park.
Cultural safaris: Tanzania is rich in culture and tourists get to experience it by visiting the villages to get to know more about the traditions and culture of the local people. The Masai people are the most visited locals in Tanzania because of their unique culture.
Enjoy the wildebeest migration: This is an annual event that takes place between Serengeti National Park in Tanzania and Masai Mara National Reserve in Kenya. Millions of wildebeests and thousands of gazelles and zebras start their trek in Tanzania to Kenya and then back to Tanzania and it is believed that they move due to a change in weather conditions. Just a glance at these animals crossing the Grumeti and Mara Rivers infested with crocodiles and surviving is an experience each person should experience.
Ngorongoro Crater: Ngorongoro crater is a top tourist destination in Tanzania and part of the Northern Circuit. Take a guided walk or drive through the Crater where you will be able to see wildlife like zebras, wildebeests, spotted hyenas, Rhinos, Buffalos, elephants, lions, buffalos, and elephants among others.
Visit Lake Manyara National Park: After the Mount Kilimanjaro climb, one of the places that you can visit and relax is Lake Manyara National Park famous for its tree-climbing lions located just half an hour's drive from Arusha. It is also home to other wildlife species including baboons, over 350 bird species, and many more others. Since the National park mainly consists of water, you can enjoy canoeing, biking, and abseiling once you have a permit.
Visit Tarangire National park: Tarangire National Park is the 6th largest National Park in Tanzania best known for having a large number of African elephants and other wildlife including wildebeests, leopards, giraffes, and hyenas among others. It was established in 1970 and with the Tarangire River, hundreds of bird species can be seen throughout the year, especially in the wet season.
Gorilla trekking: Mountain gorillas can only be found in three countries that is Uganda, Rwanda, and the Democratic Republic of Congo in the Virunga regions. They are endangered species living in families or groups with the silverback as the head of a group. The best time to go gorilla trekking is during the dry season which is June to October and December to February note that you will have to book the gorilla permit in advance since it is a tight activity that many tourists engage in.