The 6-day Umbwe Route itinerary is rarely used by hikers because it's the hardest route to use, especially for first-time hikers, and it does not offer proper acclimatization. The only positive side to using Umbwe is that it has less traffic, making it a good choice for physically fit hikers who wish to avoid the large crowds on the other hike routes. It is a short and steep climb that can be completed in 6 days via the southern circuit, getting to the summit from the Barafu Camp. Descending the Umbwe route is a bit different as you get to use the Mweka trail.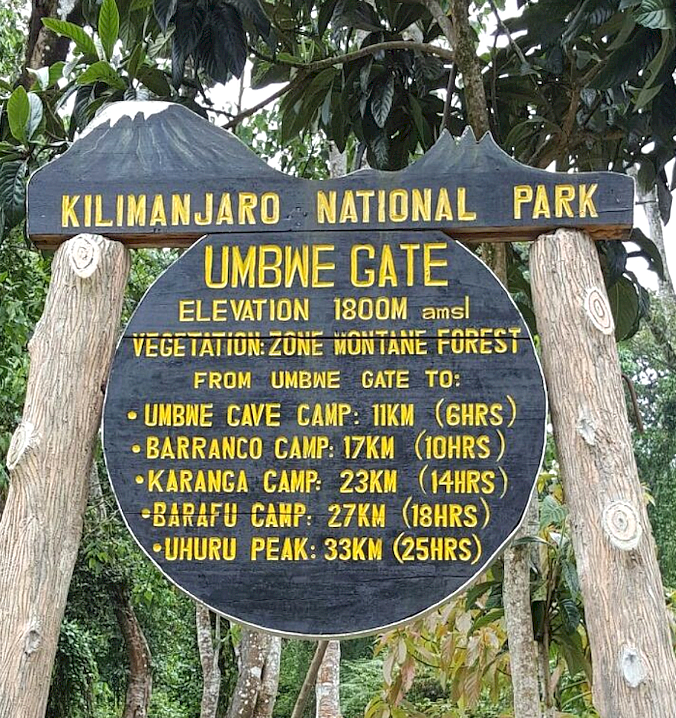 The Umbwe route has good scenery, takes 6 to 7 days, and is good for experienced hikers. If you intend on using the 6-day route, you will find a detailed itinerary below on the stopovers made and how long it will take you to trek.  It is a steep route that requires hikers that have prior experience in hiking and it is also considered to be one of the scenic routes on Mountain Kilimanjaro. The Umbwe route is also rarely used, the difficulty rate is high with low traffic.
The route is a Western Breach approach at a later stage it joins the Shira, Machame, and Lemosho route (approaching the Uhuru Peak from the west). The Western Breach is a 2 km climb at an elevation of 850m parts of which need the use of both hands and feet due to the steep rock formation. The Kilimanjaro National Park once closed the route due to a rock fall in 2006 that killed three hikers, however, it was re-opened in 2007 with conditions that whoever wants to use the Western Breach should get special permission and sign at the gate with notice that they are doing it at their own risk.
With 6 Days on the Mountain you can also take 3 other routes including Marangu Route, Rongai Route or The 6 Days Machame Route that starts from the west of the mountain.
Arrival into Kilimanjaro Airport - Transfer to Moshi
When you get to Kilimanjaro International Airport, you will be met by our guide and transferred to a hotel in Moshi for the night. The head guide will then inspect your equipment, rent what is not available, and give a briefing about the Mount Kilimanjaro hike and what to expect.
Umbwe Gate, Hike to Umbwe Cave
Elevation: 1651 m to 2944 m
Zone: rainforest
Distance: 9.6km
Duration: 6 to 8 hours
We drive from Moshi to the Kilimanjaro National Park gate, where we register and patiently wait for our climbing permits before we officially start the hike. The rainforest is slippery, and we recommend that you use trekking poles and gaiters to avoid slipping. The path from the gate towards the Umbwe Cave through the dense forests goes through two deep valleys, and we get to the cave that is located between two large trees and thick undergrowth, where we set camp, have dinner, and rest for the night.
Umbwe Cave, Hike to Barranco Cave
Elevation: 2944 m to 3986 m
Zone: Moorland
Distance: 4.75km
Duration: 4 to 6 hours
After breakfast, we resume our hike through the rainforest on a steep and ascending path along the Umbwe Ridge before we descend slightly into the valley where the Barranco Camp is located. You will notice that the temperatures start dropping, and it is time to get those warm clothes ready. Dinner is prepared at the camp, and we rest for the night as we prepare for the third day.
Barranco Camp to Karanga Camp
Elevation: 3986 m to 4043 m
Zone: Alpine Desert
Distance: 5,2km
Duration: 4 hours
Our third day takes us to the famous Barranco Wall, which is a huge challenge for most hikers, and it takes about 2 hours of using both hands and feet to get to the top of the wall. At the top, we follow a flat path leading to the Karanga Valley and the Mweka Trail junction, and this is one of the good days to show strength and agility as you climb the wall. We shall then proceed to the Karanga Camp for the night.
Karanga Camp, Hike to Barafu Camp
Elevation: 4043 m to 4662 m
Zone: Alpine desert
Distance: 3,3km
Duration: 4 hours
Our hike after breakfast from Karanga Camp to Barafu Camp completes our Southern Circuit hike with great views of the summit from different angles. After 4 hours of slow-paced hiking, we get to the Barafu camp, have lunch, an early dinner, and rest in preparation for the summit night at midnight.
Barafu Camp to Summit to Mweka Camp
Elevation: 4662 m to 5895 m (ascent) and 3106 m (descent)
Zone: Arctic/glaciers
Distance: 5km (ascent) and 11.5km (descent).
Duration: 5 to 7 hours (ascent) and 5 to 6 hours (descent).
A light meal is served around 11:30 pm, and the summit attempt hike starts between midnight and 2:00 am. We shall continue our hike through the Ratzel and Rebmann glaciers with steady hike steps to get to the peak and try as much as possible to stay warm. We then head to the northwestern path towards Stella Point to rest and enjoy the sunrise. You have approximately an hour to get to Uhuru from here, although some fast hikers can get there in time to see the sunrise from Uhuru. We get to the summit, take celebratory photos, and start our descent towards Mweka camp with a stopover at Barafu camp for lunch. Our night at Barafu is our last night on the mountain, and you deserve a well-deserved rest, food, and sleep.
Mweka camp to Mweka gate. Transfer to Moshi / Arusha
Elevation: 3106 m to 1633 m
Zone: Rainforest
Distance: 9.1km
Duration: 3 to 4 hours
On our final day, we will leave Mweka camp after breakfast and proceed to Mweka gate; the rainforest zone is slippery and muddy, so you will need gaiters and trekking poles. Summit certificates will be waiting for you at the Park Gate, and after signing out, a safari vehicle with our guide will be waiting to take you back to your hotel in Moshi, where the celebrations will continue.
---
6 Days Umbwe Route Kilimanjaro Prices